Picture from Fire Iron Design

What's wrong with this picture?

Where is the electric cord? How will they light up that lamp?

Many interior design magazines do this. They hide the cords in the meticulously styled pictures so you start imagining the table looking oh so elegant and perfect in your living room. You buy it, place your lamp and iPod dock on top and then EGAD! Unsightly cords under the table!

Here is a tip on how to hide those ugly cords.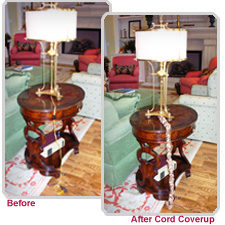 Photo from Cord Coverup (A&M Designs, Inc.). See more pictures in their site.

I'm planning on having something like this made in Kamuning next week. Want to go with me?